Homepage Main
SADEVIO is changing the visitor experience.
Welcome your guests with one of the fastest, easiest, and secured systems offered worldwide.
Experience a new generation of visitor management systems that centralizes all your important information, enhances security, and is easily accessible worldwide on any device with a modern web browser. Security features include tracking all guest actions and connecting your current security access system to the SADEVIO visitor management application.
Take advantage of our highly reliable secured cloud solution – no additional infrastructure needed. If you choose to forgo the cloud, our visitor management system can also run within your own infrastructure, with the help of our friendly support team.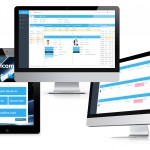 Contact us with any questions you might have – our friendly staff is here to assist